Current Graduate Students (in alphabetic order)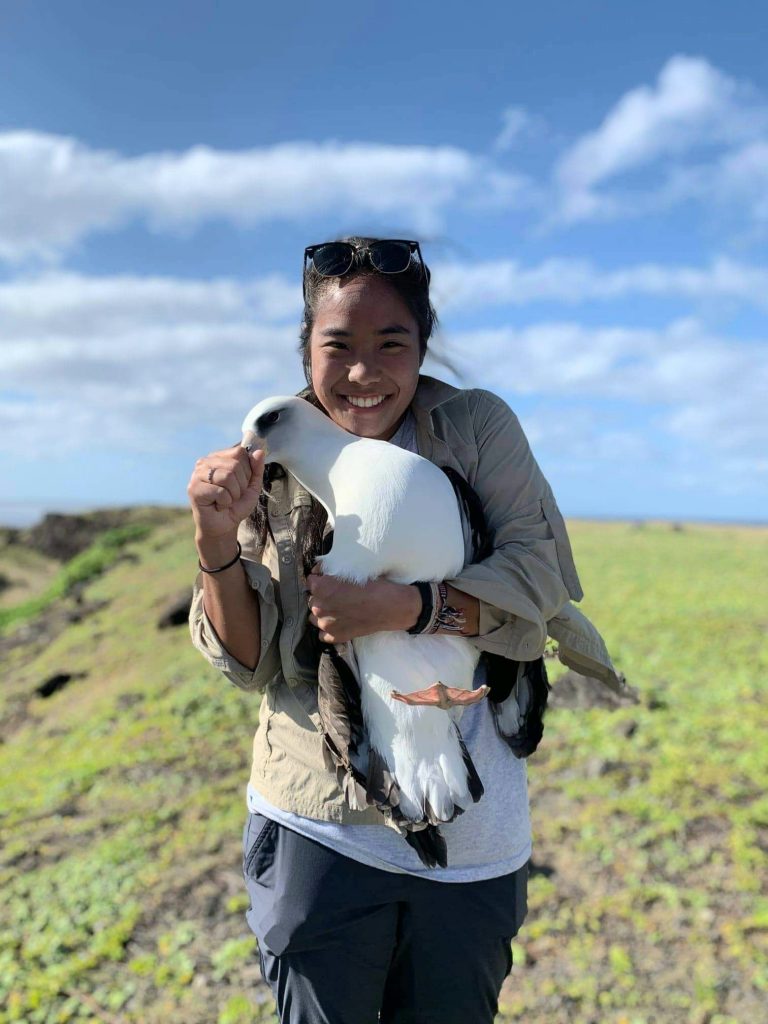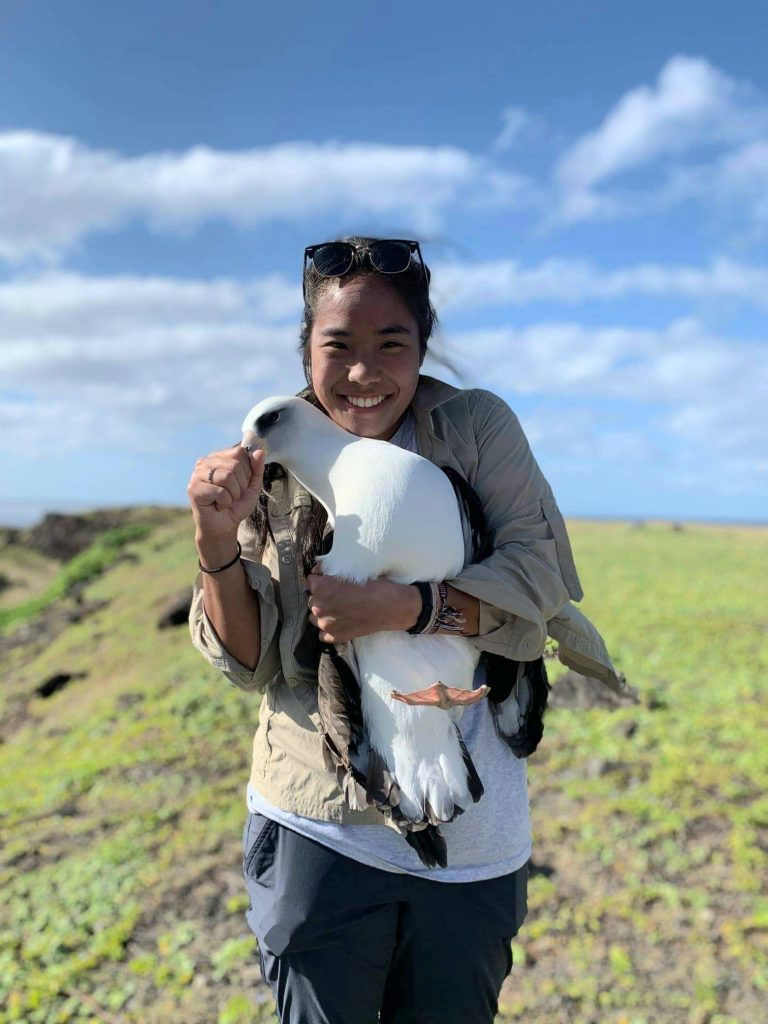 Carly Kano
While the details of Carly's master's thesis are still being established, she hopes to investigate the underlying mechanisms of how factors like diet and environment influence seabird reproductive success. Her research interests generally lie at the intersection between foraging ecology and reproductive biology but her dream would be to explore the effects of anthropogenic activity on seabird circadian biology and its implications for fitness. With the exception of her undergraduate thesis, which revolved around deer in the San Juan Islands, Carly's research background is largely focused in seabird ecology. These experiences allowed her to work with Nazca boobies on Isla Española in Galápagos and with albatross and petrels on Oʻahu in Hawaiʻi. Carly is also passionate about issues concerning indigenous peoples who are affected by colonization. She hopes that her research efforts can contribute towards the healing of historical trauma through the restoration and maintenance of native species in places such as the Kingdom of Hawaiʻi.
M.Sc. Student, Ecology and Evolution, expected graduation 2024
B.Sc. in Physiology, Seattle Pacific University, 2020
Email: Carly.Kano@sjsu.edu
Margaret Leal (starting Fall 2023)
Margaret currently works in Natural Resources for California State Parks and plans to pursue a thesis topic supporting habitat management decisions in Santa Cruz County. She worked on a trial crew in Colorado before completing several seasonal field technician positions monitoring Cape Sable seaside sparrows in Florida, tracking California condors in southern California, and trapping grasshopper and savannah sparrows near Santa Cruz. Margaret intends to leverage her background studying birds, knowledge of native vegetation, and experience working in fire management for California State Parks to produce a master's thesis that can inform management decisions. She is also interested in wildland-urban interfaces and anthropogenic impacts on wildlife, such as light pollution.
M.Sc. Student, Ecology and Evolution, expected graduation 2025
B.Sc. in Wildlife and Fisheries Sciences, Texas A&M University, College Station, 2020
Email: Margaret.Leal@sjsu.edu
Any Parsons
Amy interests include the microbial ecology, foraging ecology, and movement patterns of California gulls.  She is trying to learn more about the intersection between the microbial world and avian fitness.  Amy is comparing the microbiomes found on an urban population of California gulls that nest in estuaries of San Francisco Bay (urban) versus a rural population that nests on islands of Mono Lake in the Sierra Nevada Mountains.  She has also spent many rewarding years traveling the globe as an international school teacher.  During that time, she spent her free time working with restoration projects and ecological research efforts around the San Fransciso Bay area, in the southwestern United States, and in Southeast Asia. One day, Amy hopes to combine her passion for ecology with her passion for teaching in order to inspire the next generation.
M.Sc. Student, Ecology and Evolution, expected graduation 2023
M.A. Education, University of New Mexico, 2003
Email: Amy.Parsons@sjsu.edu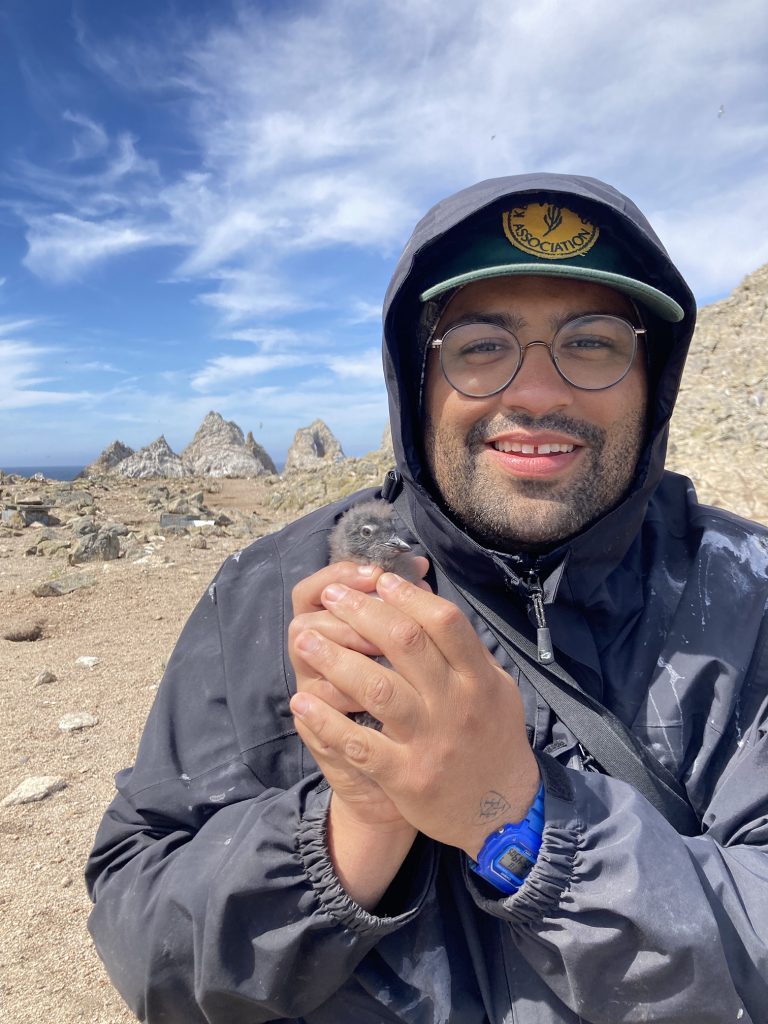 Greg Smith
Greg's research involves modeling the relationships between breeding performance and marine environmental factors to address several life history questions in Cassin's Auklets.  He is also interested in the foraging ecology of pelagic seabirds and how variation in diet can affect reproductive success.  Greg hopes to further explore changes in seabird foraging habits due to anthropogenic climate change.  His field/research background has been focused on seabird ecology and has worked on seabird islands in Maine, Florida, all over Oregon, and the Farallones Islands off the coast of San Francisco.  This includes fieldwork on a large range of seabird species in some critical marine habitats of North America.  Greg is also passionate about connecting people with nature, particularly communities historically underrepresented in the natural sciences.
M.Sc. Student, Ecology and Evolution, expected graduation 2023
B.A. Human Ecology, College of the Atlantic, 2010
Email: Gregory.Smith01@sjsu.edu